Online Times Fares Reservations
(Fares are in NZ$)
'Click Book Go Bus Reservations' from Franz Josef Glacier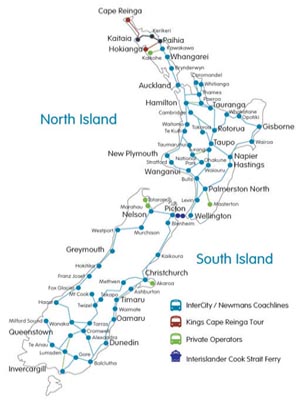 With 'Click Book Go' reservations, you can check online for cheap fares, timetable, seat availability and make instant confirmation reservations for bus and coach travel from Franz Josef on New Zealand's largest national coach transportation network in association with Newmans Coachlines, InterCity Coachlines, Atomic Shuttles coast to coast services and Great Sights - with its premier scenic coach and sightseeing services - operating daily services to over 500 towns, cities, skifields, national parks, major tourist attractions and destinations through out New Zealand - all year round, including the famous TranzAlpine train from Greymouth to Christchurch.

Located on the remote west coast of the New Zealand's South Island, set in dramatic scenery of wild coastlines, ancient glaciers, picturesque mountain ranges and lush native rainforest is the small town of Franz Josef - known for the Franz Josef Glacier.

Franz Josef township is approximately 5 km from the Franz Josef Glacier terminal face. Its accessibility makes it a major tourist attraction and the reason why many people visit Franz Josef. The 12 km long Franz Josef Glacier is one of New Zealand's most spectacular natural attractions, a remnant from the Ice Age which is one of South Westland's major draw card for visitors.

Franz Josef township, has a range of activities - from the walks on Franz Josef Glacier with a duration of 3 hours, bush walks, scenic helicopter flights of Mt Cook, Fox, Tasman and Franz Josef Glaciers, to name a few of the activities that are available.

Visitors to Franz Josef will find a small but comfortable township with a first class hotel, a good selection of motel, hostel and motor camp accommodation and several restaurants.

Despite being in the wilderness, the town has all essential services including a good garage, a district nurse and Visitors Centre and Department of Conservation Office.

There are a range of half day and full day sightseeing tours of Franz Josef and the Franz Josef Glacier to choose from.

You can book a range of accommodation that is close to Franz Josef inter-regional and long distance coach stop.

With a range of fares from NZ$1.00, travelling on the North Island bus and coach services of InterCity Coachlines is a great way to see New Zealand's diverse scenic beauty from Franz Josef.

Travel is on modern eco-friendly, air conditioned coaches and buses featuring reclining seats with foot and head rests, with some long distance coach services with Newmans Coachlines scenic coach services from Franz Josef to Haast, Wanaka and Queenstown have onboard commentary. All regional and long distance bus and coach services do stop regularly for optional refreshment and comfort breaks.

InterCity Coachlines and Newmans Coachlines provide frequent daily regional and long distance bus and coach services from Franz Josef Glacier to regional destinations in the South Island, with some regional and long distance bus and coach services connecting with Cook Strait ferry services that operate between Picton in the South Island and Wellington in the North Island.

With a range of combined coach and train travel and fare options, you can travel by coach from Franz Josef to Greymouth and on the famous TranzAlpine train to Christchurch.

InterCity Coachlines operates the Starlighter overnight coach service from Wellington, Palmerston North, Taupo, Rotorua, Taupo and Auckland connecting at Wellington with Cook Strait ferry services operating between Picton in the South Island and Wellington in the North Island. The Starlighter overnight services features reclining seats with foot and head rests, individual reading lights and air conditioning controls, onboard toilet/washroom facility and makes two refreshment/comfort stops on route.

If travelling on a Cook Strait inter-island ferry service between Picton and Wellington, using the FareFinder located on the left - type or select 'Picton' in the 'From' field and type or select 'Wellington Central' in the 'To' field as your destination.

If you want to explore New Zealand from Paihia, there are a range of flexible 'Book As You Go' bus, scenic coach, ferry travel and sightseeing passes, where you can travel at your own pace, in any direction, on the networks of InterCity Coachlines, Newmans Coachlines and Great Sights and Cook Strait ferry services between the North and South Islands, giving you real value for money travel.

After a day's travel, there is a range of budget accommodation, backpacker hostels, motels, motor inns, apartment and hotel accommodation including 'Grab A Bed' offering special 'Internet' only prices to choose from.

If you are experiencing problems in making your reservation, would like one of our travel consultant's to make a reservation/s for you or assist you in your travel planning, please contact our friendly Travel Centre team for assistance.