Online Times and Reservations
(Fares are in NZ$)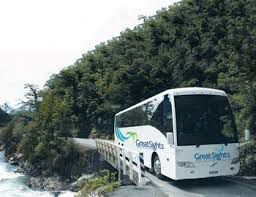 Great Sights operates a nationwide network of premier scenic coach and sightseeing services, departing daily and aimed primarily at the independent traveller.
All Great Sights coaches are modern eco-friendly vehicles with temperature controlled air conditioning, reclining seats with foot and head rests, onboard washroom/toilet facilities, video and multi-lingual commentary (Japanese, Mandarin and Spanish) on all sightseeing tours and scenic coach services.

Great Sights Milford Sound coaches feature glass roofs to ensure clear and unrivalled viewing of New Zealand's incredible scenery.

Great Sights nationwide coach network operates daily schedules services to key visitor destinations in New Zealand including Paihia (Bay of Islands), Waitomo Caves, Rotorua, Christchurch, Mount Cook, Queenstown and Milford Sound.

Great Sights has a range of day excursion sightseeing tours of the Bay of Islands from Auckland, Auckland sightseeing tours, Waitomo Caves and Rotorua day excursions in the North Island and Christchurch to Aoraki/Mt Cook and Queenstown, Queenstown and Te Anau to Milford Sound day excursions in the South Island.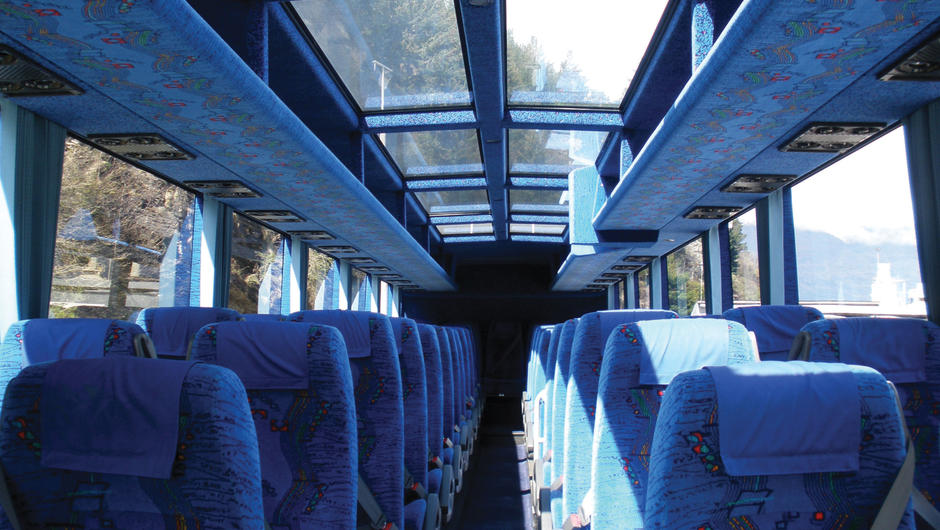 Great Sights North and South Island scenic coach and sightseeing tour services, has regular connections to InterCity Coachlines inter-regional and national bus and coach network in Auckland, Paihia (Bay of Islands), Rotorua, Christchurch and Queenstown to over 130 daily regional and long distance bus, coach services including the TranzAlpine train and and inter-island ferry services between the North and South Islands, to more than 500 destinations throughout New Zealand - 365 days a year.

Combined with InterCity, Newmans Coachlines integrated online fare, seat availability and reservation system, you can make reservations for all Great Sights coach services through out New Zealand by using the FareFinder search box located on the left.

When using the FareFinder, Great Sights services are identified as 'GS'.

Reservations can be made with drop off options at Christchurch International Airport on northbound Great Sights services from Queenstown, Twizel, Lake Tekapo, or Mt Cook/Aoraki, type or select 'Christchurch Airport' in 'To' field of the Fare Finder, your arrival destination.

You can book accommodation that is near to long distance coach terminals in Auckland, Paihia, Rotorua, Christchurch and Queenstown and near the Christchurch railway station for the TranzAlpine train.

You can travel on Great Sights sightseeing tours and scenic coach services with a flexible 'Book As You Go' Coach and Ferry Passes, travelling on Great Sights national scenic coach and sightseeing network plus the combined bus and coach networks of InterCity and Newmans Coachlines.

All 'Book As You Go' Coach and Ferry Passes are sold in blocks of 'Travel Hours' or choose from a range of pre-planned travel options, allowing you to travel on regular InterCity, Newmans bus and coach services or on any Great Sights sightseeing journeys or a mixture of both, in any direction as many times as you want over 12 months from date of purchase.

If you are experiencing problems in making your reservation or would like one of our travel consultant's to make a reservation/s for you, please contact our Travel Centre team.