Online Times Fares Reservations
(Fares are in NZ$)
'Click Book Go Bus Reservations' from Rotorua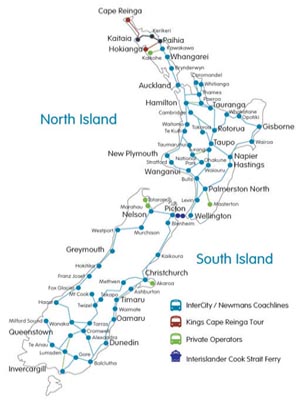 With 'Click Book Go' reservations, you can check online for cheap fares, timetable, seat availability and make instant confirmation reservations for bus and coach travel from Rotorua, on New Zealand's largest national coach transportation network in association with InterCity Coachlines and Great Sights - with its premier scenic coach and sightseeing services, operating daily services to over 300 towns, cities, skifields, national parks, major tourist attractions and destinations through out New Zealand all year round.

Rotorua is a major destination for both domestic and international tourists, with the tourism industry being by far the largest industry in the district. The city is known for its geothermal activity, with a number of geysers, notably the Pohutu Geyser at Whakarewarewa, and hot mud pools located in the city. This thermal activity owes itself to the Rotorua caldera on which the city lies.

Rotorua is like no other place, its spirit expressed by its stunning landscape. Its raw beauty has enchanted visitors from around the world for more than 160 years. Stand upon active volcanoes, peer into massive craters - see boiling mud, exploding geysers and enjoy unspoiled native forests that cloak the land. And throughout this vista are 14 crystal lakes, brimming with trout and awaiting your tender hook.

Rotorua is a top adventure destination and is New Zealand's Maori cultural heartland, but is also a compact - there's no traffic congestion, vibrant, modern city with so many attractions and activities, your most difficult task will be to decide how much you can cram into the time you have.

Rotorua has a range of half day to full day sightseeing tours of the city and surrounding areas and to Matamata (Hobbiton Movie Set) and Waitomo Caves.

You can book a range of accommodation that is close to Rotorua inter-regional and long distance coach terminal.
With a range of fares from NZ$1.00, travelling on the North Island bus and coach services of InterCity Coachlines is a great way to see New Zealand's diverse scenic beauty from Rotorua.

Travel is on modern eco-friendly, air conditioned coaches and buses featuring reclining seats with foot and head rests, with some long distance coach services having on board washroom/toilet facilities. All regional and long distance bus and coach services do stop regularly for optional refreshment and comfort breaks.

Some of InterCity Coachlines Rotorua to Hamilton, Taupo and Wellington daytime and the Starlighter overnight coach services have GOLD seats - soft leather reclining chairs with head and foot rests and individual USB charging ports on the lower deck of the double decker coaches. These seats provide plenty of room to stretch your legs and lie back and relax. The best thing is, they don't cost a lot more than the regular fare!

InterCity Coachlines provide frequent daily regional and long distance bus and coach services from Rotorua to destinations in the North Island, with some regional and long distance bus and coach services connecting with Cook Strait ferry services that operate to and from Wellington in the North and Picton in the South Island.

InterCity Coachlines operates the Starlighter overnight coach service from Rotorua to Hamilton, Taupo, Palmerston North and Wellington, connecting at Wellington with Cook Strait inter-island ferry services operating between Wellington in the North Island and Picton in the South Island. The Starlighter overnight services features reclining seats with foot and head rests, individual reading lights and air conditioning controls, onboard toilet/washroom facility and makes two refreshment/comfort stops on route.

If travelling on a Cook Strait inter-island ferry service between Wellington and Picton, using the FareFinder located top left - type or select 'Wellington Central' in the 'From' field and type or select 'Picton' in the 'To' field as your destination.

There are combined bus and inter-island ferry fares and travel options from Rotorua to Blenheim, Kaikoura, Christchurch or Nelson, using the FareFinder - type or select 'Rotorua' in the 'From' field and type or select 'Blenheim, Kaikoura, Christchurch or Nelson' in the 'To' field, as your destination.

Reservation can be made to travel from Rotorua to Auckland International Airport International or domestic terminals. Using the FareFinder located on the left. Select or type in the 'From' field 'Rotorua' and the 'To' field - type or select either 'Auckland International Airport' or 'Auckland Domestic Airport' as your destination.

If you want to explore New Zealand from Rotorua, there are a range of flexible 'Book As You Go' bus, scenic coach, ferry travel and sightseeing passes, where you can travel at your own pace, in any direction, on the networks of InterCity Coachlines, Newmans Coachlines and Great Sights and Cook Strait ferry services between the North and South Islands, giving you real value for money travel.

After a day's travel, there is a range of budget accommodation, backpacker hostels, motels, motor inns, apartment and hotel accommodation including 'Grab A Bed' offering special 'Internet' only prices to choose from.

If you are experiencing problems in making your reservation, would like one of our travel consultant's to make a reservation/s for you or assist you in your travel planning, please contact our friendly Travel Centre team for assistance.